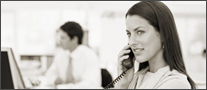 The services we offer our clients are generally divided into four (4) main practice areas: Real Estate, Mortgage Lender Services, Developer and Builder Services, and Local Businesses and Individual Clients. These divisions are somewhat seamless in that many of our clients obtain services in more than one area. Our clients include local, regional, and national banks and mortgage lending and brokering institutions, credit unions, asset management and liquidation companies, national, regional, and local builders and developers, title insurance companies, real estate brokerages, national employee relocation companies, local public and privately held businesses, and individuals. We value the relationships we share with our clients and constantly strive to improve the delivery of our services.
The Real Estate Division is headed by Steve Harvey. Each of the attorneys practicing in this division is a seasoned closing attorney with many having conducted thousands of transactions. Services in this area include land acquisition and development, residential and commercial closings, Section 1031 Like Kind Exchanges, employee relocation driven transactions, and REO closings. All of our closings are processed in Title Express through a wide area network that connects each of our offices. Closing files are, therefore, accessible from each office location and are generally processed at the local office. Our telephone system is also maintained across the wide area network thereby offering our clients one common telephone number to reach any staff member. This integrated system also offers our clients one point of contact for our entire service area while simultaneously offering true closing convenience at any of our office locations. Finally, we offer our clients title insurance products through our ownership of Indigo Title Corporation which is a licensed agent for Old Republic National Title Insurance Company, Chicago Title Company, and Stewart Title.
Our Mortgage Lender Division is headed by Daniel Vallini and assists national, regional, and local mortgage lenders with their foreclosure, eviction, REO, and other legal needs. This division is expanding quickly with services presently offered in South Carolina and Georgia.
Developer, Builder and Commercial Services
The Developer and Builder Services Division is managed by Steve Harvey, Daniel Vallini and Karen Love and functions to meet the legal needs of our local, regional, and national developer and builder clients. Services provided to our clients by this division include land acquisition, zoning procurement, planned unit, mixed use, condominium, neo-traditional and traditional neighborhood designs and urban use developments.
Local Business and Individual Clients
This division is headed by Steve Harvey and meets the varying legal needs of businesses operating in, and individuals living in South Carolina. Choice of business entity and entity formation, account collection, estate planning (wills, powers of attorney and trusts), probate administration, family law, and personal injury law are some of the many services we provide to our business and individual clients.